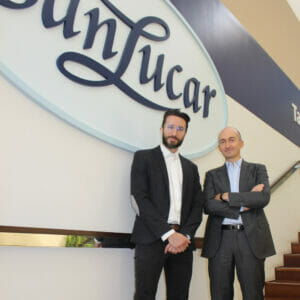 Both organizations sign a strategic agreement to digitize the agronomic operations of the fruits and vegetables multinational.
The company SanLucar, producer and distributor of premium quality fruit and vegetables, has chosen Hispatec Agrointeligencia as a technological partner to carry out the digital transformation of its agricultural operations. The company with headquarters in Valencia has its own production in countries such as South Africa, Tunisia, Spain, Ecuador, or Morocco, where it currently grows grapes, citrus fruits, stone fruit, tomatoes, berries, and bananas.
Hispatec's technology will allow the digital management of all SanLucar's agronomic processes in mobility. In this way, the producing company will be able to plan its activities and will know in real time the situation of its cultivation and harvest operations in any of its farms, allowing it to carry out a more sustainable allocation of resources, optimizing operations and reducing food waste.
The digital tools that are part of the project where SanLucar and Hispatec Agrointeligencia join forces are made up of labor management systems, control of field tasks, applied inputs, harvest quality control and management of all agronomic processes. These operational systems are complemented by decision-making systems, through which the SanLucar management team has real-time information in reference to the harvest, production costs, productivity or performance based on different variables.
"As a multinational company with productive farms spread over three continents, at SanLucar we needed to have a single source of information that would allow us to remotely and in real time monitor the operations of all our farms internationally. Through our cooperation with Hispatec we have managed to harmonize data on our crops and have an up-to-date vision in each of our offices", says Fernando Fernández, IT Director of SanLucar.
José Luis Molina, CEO of Hispatec Agrointeligencia, wanted to highlight that "the focus of all the companies that operate in the sector is the sustainability of our operations understood from its three dimensions: economic, social and environmental. We know that it is difficult to improve what is not measured and that is exactly what digital technology allows, to measure with precision and clearly show the paths of evolution of agricultural operations. We are very happy to share this vision of the future of agriculture with a leading company like SanLucar."
About Hispatec Agrointeligencia
Hispatec Agrointeligencia is a multinational digital technology group for high value agriculture. With offices in Spain, Portugal, Mexico, Central America, Colombia, Peru, Chile and Brazil, Hispatec develops and implements operational and decision-making software for the entire agri-food network with a comprehensive approach, from the seed to the destination market.
Throughout its more than 36 years of existence, Hispatec has successfully developed projects in more than 30 countries on five continents and among its more than 600 clients are the leading fruit and vegetable production and marketing companies, as well as auxiliary industry.
About SanLucar
SanLucar is a global company whose objective is to provide people with health, naturalness and joy of living, and to do so in a way that they can be proud of. With an offer of approximately 100 varieties of fruit and vegetables from more than 35 countries, SanLucar is the brand with the widest range on the German, Austrian and Dutch markets. Its product portfolio also includes smoothies, freshly cut fruit, as well as flowers and plants and now also ice cream. Currently, SanLucar is expanding to Canada, Scandinavia, Italy, England, Poland, Ecuador, the Middle East and North Africa.
Founded in 1993 by Stephan Rötzer, SanLucar is headquartered in Valencia. The company has more than 4,000 employees between its offices and farms in Germany, Austria, Benelux, Italy, Spain, Ecuador, Dubai, South Africa, Morocco and Tunisia. The philosophy "Taste in harmony with people and nature" constitutes the foundation of all SanLucar actions and the basis of many social and sustainable projects.